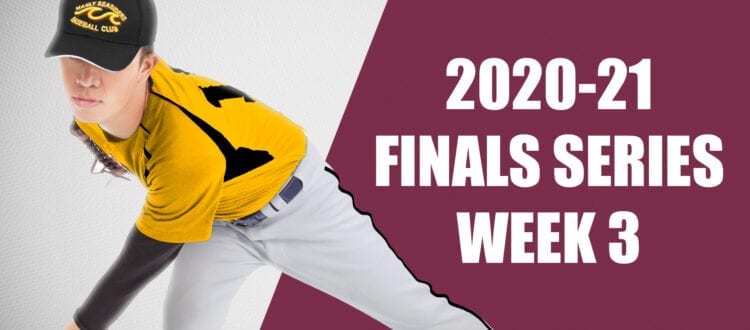 This past 10 days, New South Wales and Greater Sydney has seen an unprecedented weather event, one which many have not seen before in their lifetime.
I pray that you, your families, and friends have been safe and well during this period.  Obviously, baseball was not front of mind of all of us during this period, so we play our Grand Final games this weekend, hopefully under warm blue skies.
The Grand Final for Intermediate League and Preliminary Finals for the other divisions of the Manly Warringah Junior Baseball Competition were scheduled over 3 days from 10 to 13 March.
Congratulations to the Dodgers for their win Grand Final of the Intermediate League. Commiserations to the Royals, but well done on a great season of baseball.
The Senior League preliminary final was played on Friday evening, 12 March under lights.  Having been threatened with cancellation due to the rain during the week and the prediction of rain on the day, the field was in outstanding condition.
It was a great game played under ominous skies, which developed into a significant lighting storm, causing the game to be ceased after 4 innings.  Congratulations to the Pittwater Dolphins on progressing to the Grand Final.  Commiserations to the Manly Seasiders Tigers, but well done on a great season of baseball.
The Under 9 Tee Ball, Zooka, Little League Minor & Major and Junior League were played Saturday, 13 March at St Matthews Farm Reserve.
Well done to Kris Gailloux, President of the Warringah Baseball Club, and your great team of volunteers for the preparation of the grounds and an excellent day of baseball with great atmosphere and food.
Well done to all the Coaches, Team Officials and parents of the outstanding teams that played on Saturday.
Commiserations to the teams that were eliminated, Manly Baseball looks forward to seeing you all return next season, a year older and keener than ever to play baseball.
Thank you to the Manly Warringah Baseball Umpires, including the junior umpires who officiated the games. Well done.
The Grand Final series games are as follows:
Friday, 26 March 2021 at Aquatic Reserve, 6:00PM
Senior League: Manly Seasiders Panthers v Pittwater Dolphins
Saturday, 27 March 2021 at St Matthews Farm Reserve
The Opening Ceremony, National Anthem and First Pitch at 8:20AM
The Junior League, Little League Major and Zooka teams will be present for the ceremony.
We invite the Tee Ball and Little League Minor teams to attend but it is not compulsory that they attend.
Commencing at 8:45AM
Junior League: Manly Seasiders Hornets v Manly Seasiders Eagles
Little League Zooka: Forest Mariners v Warringah Barracudas
Little League Major: Forest Athletics v Pittwater Pelicans
Commencing at 10:15AM
Under 9 Tee ball: Warringah Goats v Pittwater Sharks
Little League Minor: Pittwater Seahawks v Pittwater Barracudas
CLICK HERE TO DOWNLOAD THE UPDATED SCHEDULE
We invite all Manly Junior Baseball players and their families and friends to come along and enjoy the atmosphere of Grand Final baseball.