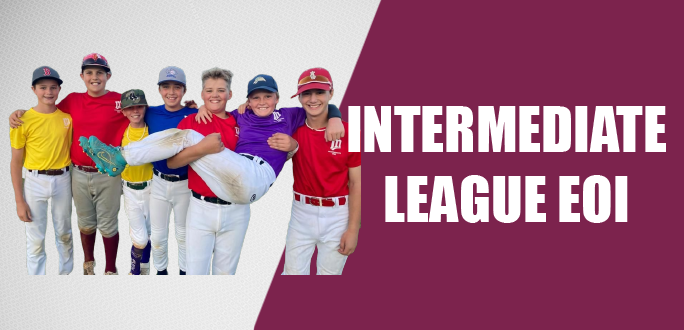 Intermediate League EOI Now Open!
Expressions of Interest for Intermediate League.
Intermediate League is a fun way for kids to get extra gameplay and help bridge the gap between the field size and game speed when moving from LL Majors to Junior League.
It is a 4 team division consisting of players already playing Majors or Junior League on Saturdays who wish to play an additional game on Wednesday evenings.
The teams are drafted from a pool of players across all four Manly Baseball Clubs.
Competition Structure
Time: Wednesdays at 5:15PM
Location: Forest Aquatic Grounds or Seasiders John Fisher (Curl Curl) Grounds
Game Duration: 1hr 45min or 6 innings
Competition Commences: Wednesday, 11 October
Details
4 teams (we will consider expanding if there are enough players to do so)
Only Wednesday night gameplay, there are no team training
Who is Eligible to Play?
League Age 11–14 (born between 1 September 2009 and 31 August 2013)
League Age 11 players must be registered and playing LL Majors
League Age 14 players are restricted with their options for Pitching and Catching
Cost to Play
Only $70.00 for the season to cover umpire and jersey costs.
Players will have already paid the Baseball Australia, Baseball NSW and MWDBA capitation fees as part of their initial rego fees.
If your child is interested in playing Intermediate League on a Wednesday night, please complete the EOI registration form.
EOI's close Friday 29th September.